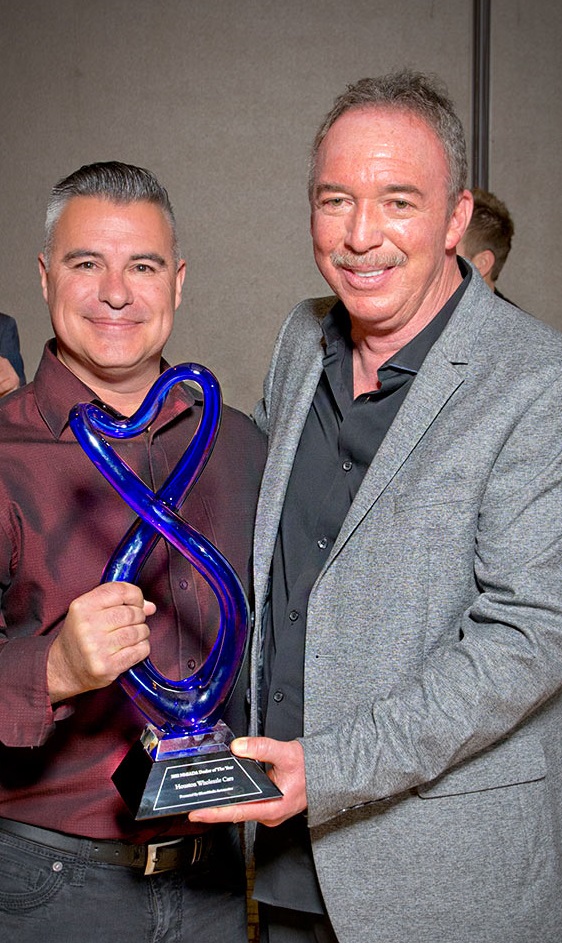 Houston Wholesale Cars Named 2022 New Mexico
Independent Auto Dealer of the Year
Houston Wholesale Cars of Albuquerque, co-owned by Gary Padilla and Emilio Chavez, has been selected as the New Mexico Independent Automobile Dealers Association (NMIADA) Independent Auto Dealer of the Year for 2022.  The winner was announced at the NMIADA 60th Anniversary Celebration and Awards dinner held at Isleta Resort and Casino on November 9th.
The prestigious annual title is awarded based on a dealership's business model, service to the community and on-going support to New Mexico's automotive industry.  Winners are nominated and voted on by other auto dealer professionals and recognizes a New Mexico automobile dealer operating at the pinnacle of industry excellence.  Houston Wholesale Cars was among fourteen highly qualified nominees this year.
Located at 4718 Lomas Blvd NE, Houston Wholesale Cars has been named Albuquerque Magazine's "Best of the City" automobile dealer for 11 years running, and the Albuquerque Journal's "Reader's Choice" award for 2021 and 2022.  With decades of experience, Houston Wholesale offers one of the largest pre-owned vehicle inventories in the state and consistently ranks as one of New Mexico's most successful independent automobile dealerships.
Commenting on the award, NMIADA Executive Director Marc Powell noted, "Gary and Emilio have a hard-earned reputation for providing top quality cars at the best prices, and delighting their customers.  Equally important is their reputation for supporting the industry and helping other automobile dealers and the community.  We are proud to have such an excellent community member named as Dealer of the Year as we celebrate our 60th year of service to New Mexico's automotive industry."
iHeartMedia sponsored NMIADA's 60th Anniversary Dinner and Awards Ceremony, and the Dealer of the Year Award for 2022.  iHeartMedia supports local communities and local businesses throughout the state.  The company has 8 radio stations in New Mexico, including 100.3 The Peak, KZZR 94 Rock and Big I 107.9.


Criteria to become Dealer of the Year
SERVICE TO THE INDUSTRY
It is my belief: "Every man owes a portion of his time
and money to that industry or business from which he
derives his livelihood."
- Theodore Roosevelt

Candidates should meet the following criteria:
Support their respective state association through his/her dedicated service.
Demonstrate a willingness to be helpful in performing State Association duties
Display a willingness to serve the Used Motor Vehicle Industry through helpful service to fellow dealers
by sharing his/her knowledge, talent and experience.